Buttons
Bootsrap Shortcode – [ bs_tooltip ]
Bootsrap Shortcode – [ bs_lead ]
This is a lead text and needs your attention.
---
< blockquote >
bold font areas orem ipsum dolor sit amet, consectetur adipiscing elit. Duis ut effie vulectus neque sem, condimentum non lobortis vulputate, aliquam sed diam. Proin magna nunc, porta quis vehicul
---
Shortcode – [ query_faq cat="slug_here" ]
Shortcode – [ query_team_members cat="slug_here" ]
Sab Lord

Owner / Expert Guide
Sab Lord has spent over 25 years in and around the Northern Territory and Western Australia leading specialised tours throughout the Kimberley, Kakadu and Arnhem Land. In the 1950s his father ran a crocodile and buffalo hunting operation at Munmalary – the station is now contained in World Heritage-listed Kakadu National Park. His in-depth knowledge of the flora, fauna and history, his unique character, as well as his personal links with the traditional Aboriginal owners established during that time, ensure your private touring experience will never be forgotten. Thanks to his unique and passionate outback style, Sab is in extremely high demand for private luxury touring. Read testimonials here.
Dean Hoath has more than 20 years of guiding experience, and your Lords Safaris tour with Dean will exceed your highest expectations.
Dean began guiding in 1996, and after achieving a BA in Nature Tourism, he has worked continuously as a guide in Victoria, New South Wales, Queensland, Western Australia, and most frequently in the Top End of the Northern Territory.
In 2012 Dean's skills were recognized when he won the Most Outstanding Interpretive Guide category at the Northern Territory Tourism Brolga Awards.
Dean shows great enthusiasm in sharing his passion for the Australian landscape, and with his local knowledge and skill, he provides truly inspirational immersive visitor experiences. Read a few of Dean's testimonials here.
Bianca Di Nuzzo

Expert Guide
Bianca Di Nuzzo grew up in Melbourne and domestic travel was always a key part of her family life from a young age. During a year-long journey around Australia, she spent her 11th birthday in Broome before heading to Darwin and a passion for that area of Australia was quietly ignited in her. After completing her Tourism Management degree and spending the majority of her early career guiding in Victoria, she spent time travelling overseas, but the pull of Australia's north west and Top End was strong causing her to return.
For Bianca it is an absolute privilege to share her passion and knowledge of the area to guests ensuring your trip to this area will be an unforgettable life experience.
---
Shortcode – [ testimonials_slideshow class="" ]
Shortcode – [ cta_box ]
Heading here
Sub heading can go here
---
Shortcode – [ cta_box ] With popup
Shortcode – [ query_testimonials ]
Ten years ago my family (my wife and I, plus 5 children aged 7 to 17) spent 6 days with Sab Lord enjoying the wonders of Kakadu and the surrounding region. We loved the wildlife, the beautiful scenery and the food (Sab is a mean camp chef). But most of all we loved hearing about the people and the culture of the land. Sab's unique upbringing and relationships with the Aboriginal people meant that the complexities of the local culture were slowly revealed as we chatted with this master raconteur.

In 2019 we returned to the Top End, this time heading to the Kimberleys with Sab and and his colleague Dean. There was no way any of our young people were going to miss out on this trip and our numbers were swollen by the addition of a daughter-in-law. The distances are not for the faint-hearted (or for the "are-we-there-yet" brigade) but the terrain is beautiful in its rugged enormity and the water-courses are oases to die for....Sab's tales of the unexpected and Dean's languid humour meant that the miles flew by as we drove from one beauty spot to another. The food was as plentiful and delicious and the beers were as cold as they were 10 years previously, but we might have drunk a few more than last time.....

Simon, Rachel, Tom, Fliss, Jonny, Alexander, Anna, and Josh

THE PILCHER FAMILY – UK, May 2020
We have done two trips with Sab Lord and Lords Safaris and it's really hard to put into words what an amazing experience both the adventures were. The scenery, the wildlife, the natural beauty and just the sheer remoteness of where Sab takes you just leaves you wanting more. Sab takes you to unique places and his knowledge about the area just magnifies the experience. He is a wonderful host and introduces you to some amazing people. When we went with the whole family and everyone loved it. Last year for our second trip, Jen and I went by ourselves, and it was equally fabulous. All I can say is we will be back.

JEN & JONATHAN COLE – SYDNEY, 2019
Our trip to Kakadu and Arnhem Land last August was the highlight of our travels last year, not just for me but the whole family. &nbsp We covered a lot of ground (and water), saw amazing wildlife, magnificent wilderness and stayed in some stunning places. Many memories, but two things stand out. &nbsp Visiting remote untouched ancient aboriginal caves was an extraordinary experience and meeting local people who remain connected with this culture was an insight I suspect available to only a very few. Sitting under a rock overhang covered in paintings stretching back thousands of years, listening to the description of the spiritual connection between the living and long dead ancestors, whilst staring out at a landscape that can't have changed much in all that time, was a deeply memorable experience. &nbsp The other standout was spending those 6 days with you as our guide. The knowledge, the stories (bull catching a personal favourite), the humour, the banter (our youngest daughter who is 19 and full of opinions remembers it well and fondly), chats deep into the night round an open fire - it would not have been the same without Sab Lord at the helm. &nbsp I don't imagine we'll ever forget it.

ANGUS JOHNSTON – UK, August 2019
I'm writing this email to thank you once again for the unforgettable moments we've had with you in Kakadu and Arnhemland. This was certainly one of the highlights of our trip in your wonderful country of Australia!!! William and John are still talking about all the stories you've told us!!! As soon as the pictures are ready we'll send some to you. We wish you all the best, and please, take care of your wonderful country!!!

Kind regards,

Bruno, Vanessa, William and John Vande Vyvere

BRUNO VANDE VYVERE – BELGIUM, July 2019
Sab and Ann Maree, we had an absolutely fantastic trip! As you know, the places we went were very beautiful in a unique and intriguing way, very different from anywhere we have been before. We especially loved the way in which the places were bound to the spiritual life and history of the aboriginal people. The wildlife from the obvious, like the Crocs and Wallabies, to the subtle like the birds and Leichart Grasshopper were great as were the trees and plants.

The accommodations you arranged worked out very well. Cicada Lodge and especially Davidson's were the standouts but Cooinda also was quite acceptable. Our stop at Injalak and our walk with Gabriella were very special and gave us very unique insight into the culture and traits of the people living in this area.

Last but not least, Dean was fantastic! We have travelled with guides in many parts of the world and he rates way at the top of the list. He was very knowledgeable about the geology, history, wildlife, plant life and culture of the people in all of the places we went. My wife Karen is just recovering from several months of a knee injury and he was extremely conscientious about helping her with her footing on our walks. He was very courteous, paid great attention to details and he was just a really great guy who added enormously to our experience. Don't let him get away from Lord's!

Thank you guys for arranging a true adventure that will be remembered as one of the most incredible experiences we have had.

Best Regards, Gene

GENE – USA, May 2018
My family and I have done two tours with Sab Lord and both were excellent. As a tour leader, Sab combines many important skills. He has a great knowledge of the area, the plants, animals and birds, the aboriginal traditions and art sites and he provides outstanding food. His camping equipment is of high quality and his permanent camp site in Kakadu is very comfortable. Another important quality is that he is very attentive to the needs of his guests. Personally I love his dry sense of humour and the way he interacts with the local indigenous people. Highly recommended.

IAN YOUNG – Canberra, August 2016
I recently returned from a 2N/3D camping safari with Lord's Kakadu & Arnhmenland Safaris and had a wonderful time. Sab Lord is an amazing guide who shows so much passion for what he does and knows the country and people so well. In Kakadu we visited Ubirr and hiked to the top for a spectacular view over Kakadu and the floodplains - made famous by Crocodile Dundee. When we reached the bottom Sab set up a yummy picnic lunch complete with Tim Tams! We then went on to do the Yellow Waters cruise where we spotted crocodiles (big ones too) and some great birdlife. At the end of Day 1 we retreated to Sab's bush camp in Kakadu which had everything one needs for a stay in the remote bush: hot showers, mozzie free dining tent, comfortable beds (proper beds with mattress, sheets & pillows), a camp fire, plenty of good wine and a hearty dinner with canapes, BBQ steak (dinosaur sized) and apple crumble and ice cream - what more can a girl want!

On Day 2, we set off on our adventure into Arnhemland. For those of you who don't know, Arnhemland is the largest Aboriginal Reserve in Australia and offers some of the most spectacular country I have ever seen. It is remote, isolated and breathtaking. You can't visit this region of Australia without a specialist guide and Lords Safaris is one of the few companies that is able to access this region for tourism purposes. Sab knows the people so well and shows such great respect and understanding for their culture and everyone knows him. Sab works with local indigenous guides who take you on a guided walk through their country to view amazing rock art and to hear of the stories behind the art that has been passed down for tens of thousands of years.

Our guide Tomo was fabulous - he looked after us so well and it was such a privilege to have him share his stories with us. The rock art galleries are amazing and even better than what we saw in Kakadu. The fact that we hiked through rugged stone country to view the art made it so much better and a really authentic experience - I can't recommend a trip to Arnhemland highly enough it really was beautiful - there are no crowds of tourists here, no boardwalks with signs to follow - it really was a very intimate, off the beaten track experience.

Sab arranged a picnic lunch at the top with a gorgeous view from the escarpment over the floodplains, Injalak Hill and township below. At the end of the hike (a reasonable level of fitness and good walking shoes required) we went on to the Injalak Art Centre where we met the artists and saw them at work. The detail and care shown in their work was amazing and Marika who manages the centre knows all the artists well and took the time to show us around to meet with them - a variety of talents from screen printing, bark painting, basket weaving etc. After an active day exploring we went back to Sab's camp and where we were treated to a camp oven roast dinner over the fire and a glass of red. If only camping was like this all the time! On day 3 we tucked into a cooked breakfast before making our way back to Darwin for our flight home.

I combined Sab's camping safari with a 2-night stay at Bamurru Plains which to date has been one of my most memorable trips in Australia. The two experiences offered diverse wildlife, landscape and habitat and really highlighted the best of the Top End.

Visited April 2012
I have so much to say about this trip! First of all: Sab Lord is the best guide I have ever met. His knowledge of the territory and of the Aboriginal people is extraordinary and really shows you the best and he takes you off the beaten tracks. He is so much fun and, believe me, a great cook! Secondly, Arnhem Land: that place took my breath away. You have to go to understand what I am talking about. One of the best landscapes I have ever seen. Tomo, the Aboriginal guide who took me for the amazing walk on the cliff, is one of the nicest men I have ever met. I loved it. Thank you Sab: I can't wait to come back and next time we all book a longer trip for you: 3 days haven't been enough!

SOFIA G – Sydney, 2012
We did a 4 day safari with Sab Lord, family (2 adults, 3 children 8 to 13 years)... and it was a simply amazing adventure. The character is extremely friendly, he knows everything and the Northern Territory Aborigines (he grew up with them in the farm of his father at the time). Of course, we must speak English to take advantage of all knowledge. It has excellent contacts with the Aborigines, which allowed us to visit, besides the Adelaide River (with its Jumping Crocodiles), the yellow waters (with crocodiles tens to the boat) and other places of Kakadu Park (including the beautiful Jim Jim Falls), Arnhem Land. After a visit to an aboriginal community, Sab works with a native guide for half a day exploring a sacred mountain, with a number of paintings just amazing and a lot of information about what was and what remains of the indigenous culture. And Sab takes us another place to limited access, Kolperine Gorge, just amazing (a series of small mountain lakes where we swim like we did to Jim Jim Falls, that is reached after a walk in the bush). Guaranteed security: Sab's tours are safe enough for children. Picnic in the mountains or the bush whenever noon. And in the evening, a private camp with "cabins" very comfortable and cooking skills for Sab bush that we had not guessed (recall his long leg of lamb on the campfire and "frogs in a house" in the morning ...). The rates are not cheap (but what is in the Top End?), But the experience is to recommend unreservedly. We look forward to meet Sab our next trip Down Under!

PHIL – Switzerland, 2013
Sab,

Just wanted to write a note to say many thanks for taking us out to Kakadu for the night. You might take it for granted as you live within that country and people, but for me it is one of the few places that feels like real Australia. Majestic, harsh, dangerous, and beautiful.

We really enjoyed meeting you too. Your stories, honesty and knowledge were really appreciated and whilst it was just too short a trip it was nevertheless good for the soul.

I will look forward to catching up along the way within rugby or back at the top end. If I am able to do anything please let me know, will be recommending your safari's to any that care to listen down my way.

Cheers,

ROFFY – Canberra, 2015
Sab,

Thanks for an unforgettable 5 days - the Arnhemland & Kakadu - amazing scenery, wildlife, geology and culture - all shared with us in such a fantastic way - your hospitality and welcome are what made all this possible - and we are hugely grateful... we need a couple of days rest now before Bernard's party - from which, if you listen carefully, you'll probably hear the singing on Saturday!!

You now have my email - so do keep in touch - you'd be most welcome with us in Europe when you travel that way - perhaps I can show you some subsidised agriculture!!

I hope we can arrange another safari with you in the next couple of years... Also please thank Annmaree for her amazing support behind the scenes - we know how much that matters too...

We loved the dinner last night - great food and a couple of glasses too!

Good luck with the Rugby!!

All the best to you and AM from us both:

TOM & CORALIE – September 2015
Dear Sab and Ann-Maree,

Thanks to you both for organising such a marvelous trip and taking care of us . It's been a lot more than a holiday, more of a huge experience on many levels.

It's been strange coming home after such an amazing adventure. Nothing seems quite as much fun as waking up in the bush and heading off for another day of learning and exploring. We had the best time.

Bye for now guys,

KATHY
Dear Ann-Maree and Sab,

We're finally back at home in Wangaratta, and my sister and her family have now left for the UK after a real experience over here.

Before I get caught up in the day to day stuff again, I just wanted to say a really big 'thank you' to you both and Dean for such a fantastic time on our Kakadu adventure! No surprise the place has world heritage status and we obviously only scratched the surface in our short time there, but we loved the schedule you arranged for us and it was definitely the highlight of the Australian holiday for my sister, Simon and the girls. It will be something Izzy and Grace will always remember, and the same goes for Lucinda, Simon, Jim and me!

We all felt very confident and comfortable leaving everything in Sab and Dean's capable hands. The Dutch family sharing the campsite with us were lovely, and Lucinda and Simon have exchanged contact info with them. Loved Sab and Dean's company too, and thanks for taking such good care of us all - great food (including the best damper!) and relaxing evenings by the campfire!!

What a pleasure it was to travel with Dean, who knew the environment so well. His local knowledge gave us a much better understanding of the place and its Aboriginal heritage. It was great to find out more about Sab's obvious connection with Kakadu and its people too - what a special gift! We're already looking forward to coming up to NT again, and obviously we'll be recommending Lord's Safaris to anyone we know who's heading your way!

Thanks again,

SALLY & JIM – August 2016
Hi Dean, Sab, and Ann-Maree,

Thank you all for such a wonderful holiday!

It was the best family holiday we have been on, and such a great opportunity to explore parts of Australia we have never seen. I haven't been able to stop thinking about Arnhemland in particular.

Dean, thank you especially for being so great (and patient!) with our kids. They had a fabulous time and are still talking about it. Henry is still showing off his quartz collection to anyone who will listen!

We will certainly be recommending your tours.

Kind regards,

SUZANNE – August 2016
Dear Sab & Ann-Maree,

On behalf of the whole family, we would like to thank both of you for the most amazing trip. We can't stop talking about our adventures & the wonderful time we spent with Sab. We would love to come back in the future and do more. We feel like we now have new friends in Australia 🙂

Sab, thank you again. You took such great care of us and showed us things we would never have had the opportunity to have seen or experienced. We will always treasure the time. In particular, Arnhemland was so very special. We feel very honored & privileged to have gone there & seen the beautiful, ancient rock art on Injalak Hill. It was incredible. Our time in NT really gave us a sense of perspective of our place in the world & how vast, beautiful, and precious our earth is.

Sincerely,

DIDI – Seattle, USA, July 2016
---
Custom Post Carousel – [ column_carousel ]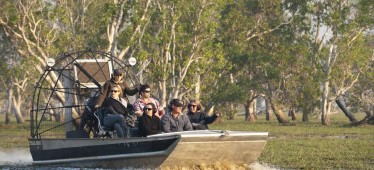 Experience a classic Top End adventure: airboating with Sab Lord and Lords ...
More
---
Unordered List
List Item 1
List Item 2
List Item 3
---
Ordered List
List Item 1
List Item 2
List Item 3
---
Bootstrap .list-group ul
List Item 1
List Item 2
List Item 3
---
Bootstrap .list-group ol
List Item 1
List Item 2
List Item 3
---
Table
| # | First Name | Last Name |
| --- | --- | --- |
| 1 | Jon | Hollenberg |
| 2 | Sam | Horn |
---
DIV Custom Scrollbar (.custom-scroll)
Just add "custom-scroll" for your div that have a fix height or width, Just add "custom-scroll" for your div that have a fix height or width
Just add "custom-scroll" for your div that have a fix height or width, Just add "custom-scroll" for your div that have a fix height or width
Just add "custom-scroll" for your div that have a fix height or width, Just add "custom-scroll" for your div that have a fix height or width
Just add "custom-scroll" for your div that have a fix height or width, Just add "custom-scroll" for your div that have a fix height or width
Just add "custom-scroll" for your div that have a fix height or width, Just add "custom-scroll" for your div that have a fix height or width
Just add "custom-scroll" for your div that have a fix height or width, Just add "custom-scroll" for your div that have a fix height or width
Just add "custom-scroll" for your div that have a fix height or width, Just add "custom-scroll" for your div that have a fix height or width
Just add "custom-scroll" for your div that have a fix height or width, Just add "custom-scroll" for your div that have a fix height or width
Just add "custom-scroll" for your div that have a fix height or width, Just add "custom-scroll" for your div that have a fix height or width
Just add "custom-scroll" for your div that have a fix height or width, Just add "custom-scroll" for your div that have a fix height or width
---
Social Icons – [ social_icons ] | ShareThis [ share_this_icon ]
Custom Social Icons – [ custom_social_icons ]